Day 8: An Obscenity
Posted: Wednesday, March 26, 2003

'New Rome' turns deaf ear to wisdom
"New Rome doesn't listen" and is badly misreading the situation in Iraq and the Arab world, according to Culture Minister Ghassan Salameh.

Of Lies, Liberation and American Self-Delusion

Corporate War Press: Onward Embedded Soldiers

The New Humanitarianism: Basra as Military Target

International Law a la Carte

What You Aren't Being Told About Iraq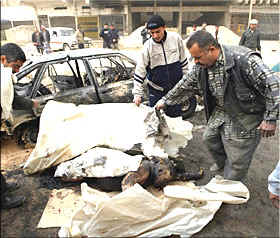 Iraqis cover a body lying next to a burned-out car on a Baghdad
street following airstrikes on Wednesday. (Reuters, AN, 3/27/03)

It was an outrage, an obscenity
It was an outrage, an obscenity. The severed hand on the metal door, the swamp of blood and mud across the road, the human brains inside a garage, the incinerated, skeletal remains of an Iraqi mother and her three small children in their still-smouldering car.

Jubilation turns to hate as aid arrives
The young man wearing the brown shawl summed it up succinctly: "We want you to go back home. We do not want your American and British aid," he said, his eyes flashing with anger. If the British humanitarian taskforce had any doubts as to the legitimacy of his claims, the sudden burst of gunfire from a nearby building left no one in any doubt.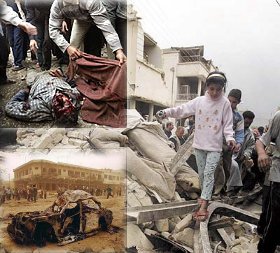 This is not Jenin. An Iraqi girl walks through the rubble of a building
which was destroyed during a US-British air raid on Baghdad. (photo by Faleh Kheiber/Reuters)

Fresh explosions rock Baghdad
A series of at least 30 explosions have been reported in Baghdad, as at least four waves of air strikes hit the city centre and the outskirts of the capital.

Anti-war consumers bite back
No more Coca-Cola or Budweiser, no Marlboro, no American whisky or even American Express cards - a growing number of restaurants in Germany are taking everything American off their menus to protest against the war.

What racist arrogance!

UN big four baulk at renewing oil for food
France, Russia, China and Germany have opened new opposition with the United States over Iraq at the United Nations, baulking at a resolution to authorise emergency shipments of food and medicine to beleaguered Iraqi civilians.

Coalition of the Willing?
Not us, say Solomon islanders
Sorry, President Bush, but if you are counting on the Solomon Islands National Reconnaissance and Surveillance Force to watch your back in Iraq, you're out of luck. Solomon Islands Prime Minister Allan Kemakeza yesterday said "thanks but no thanks" after hearing his nation had been shanghaied into the US-led Coalition of the Willing.

US not to heed calls for cease-fire: Powell
The United States will not listen to calls for a cease-fire in its war with Iraq, Secretary of State Colin Powell told the Arabic-language Al-Jazeera television network on Wednesday.

McCarthy's ghost
Democracy is under threat in the United States; anyone who objects to the conflict in Iraq is not allowed to say so

Bush and Rumsfeld Had Better Watch Their Back

Tribes, women and sand come to Saddam's aid
Washington may fear Iraqi President Saddam Hussein will use biological or chemical arms, but so far his lethal weapons of choice have been tribal chiefs, suicide bombers, militias, women and sandstorms. Since the United States and its allies launched war to oust the Iraqi strongman, Saddam's regime has been praising the valiant resistance of regular army troops.

Ladies' Tea Boils Over as Saudis Rail at US
"This war is making people pro-Saddam, because it's not fair that you come from outside and remove a president, even if he is a dictator," she declared. "You thought the Iraqis would join you and fight for their freedom, but people instead of fighting for their freedom are standing behind him. And this isn't what anyone wanted to see!"

Practice to Deceive
Chaos in the Middle East is not the Bush hawks' nightmare scenario--it's their plan.

All in the Neocon Family
What do William Kristol, Norman Podhoretz, Elliot Abrams, and Robert Kagan have in common? Yes, they are all die-hard hawks who have gained control of U.S. foreign policy since the 9/11 attacks. But they are also part of one big neoconservative family – an extended clan of spouses, children, and friends who have known each other for generations.




Printer friendly version

Send page by E-Mail