Day 7: Wages of War
Posted: Wednesday, March 26, 2003

US Bombs Iran
Hawks Readying For 2004 Invasion

Desert Storms: A Battlefield from Hell




Sand Before The Storm
The Iraqis have torched oil dumps to obscure and confuse the enemy attacks upon the capital, but nature, so much more powerful.

Russia scorns U.S. "liberation" claim

US may 'fabricate' WMD evidence in Iraq: Russia

No Revolt in Basra
Basra, the city in southern Iraq which was supposed to welcome the liberators with open arms continues to stand fast against the illegal invasion of Iraq by the USA/UK coalition. The much-vaunted revolt which was supposed to have taken place on Tuesday night was denied by the Supreme Council for the Islamic Revolution in Iraq (SCIRI) in Teheran this morning.

US admits '8,000 Iraqis captured' claim was false
The US military has been forced to admit the 8,000 Iraqi soldiers they claimed to have captured last week are now battling British forces.

Japan refuses to shut Iraqi embassy

India and Pakistan test fire missiles

China readies for future U.S. fight
The Iraqi war has convinced the Chinese Communist Party (CCP) leadership that some form of confrontation with the U.S. could come earlier than expected.

Iraqis Remain Defiant in the Face of B-52 Bombings

A US delegation for ceasefire negotiations

¤ Cheney's daughters not going to Baghdad

'Shock And Awe' Fizzles
In The Face of Ingenuity and A Will To Fight

The Terrorist Advantage
That's the terrorist advantage. He can strike anywhere at any time. His target, however, has to try to be on guard all the time everywhere. New York City's heightened state of alert is costing it several million dollars a week it can't afford. Thus, by just lying in his hammock, the terrorist is accomplishing one of his goals — to make Americans fearful and anxious.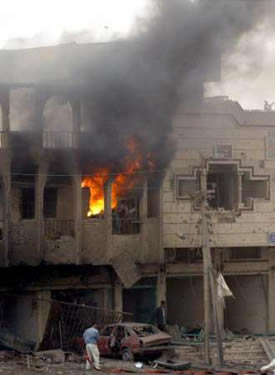 A house burns following recent air strikes on Baghdad, March 26, 2003. At least 15 burned corpses lay in a popular residential area of Baghdad, apparently killed in a U.S.-led bombing or missile raid on the Iraqi capital on Wednesday, Reuters Television correspondents said. An Iraqi Information Ministry official said a strike on a busy market area had caused 'many, many casualties.' REUTERS/Goran Tomasevic

Iraqi Civilian Deaths Stirring Up Anti-U.S. Sentiment

Exiled Iraqis want to fight 'invaders'

Anti-war protests continue

Iraqi Shi'ite Opposition Says No Uprising in Basra

¤ Focus of Iraq fighting shifts south
¤ Iraq: 14 Dead in Baghdad Missile Attack
¤ Bombing of Baghdad market kills 15

US escalates war on northern Iraq's militants
US forces are now fighting two Islamic groups - one radical, one more moderate - on a second front.

North Korea Calls Off U.N. Meeting
North Korea cut off the only regular military contact with the U.S.-led United Nations Command on Wednesday, after accusing the United States of planning an attack.

U.S. military unprepared for militias

The lucrative business of rebuilding Iraq

Cheney's Halliburton 'wins' first Iraq Contract
The US army said it gave the main Iraqi oil well firefighting contract to a unit of Halliburton Co., a firm once run by Vice President Dick Cheney.

J-Dams mark escalation of assault on Basra

Two more British troops killed by 'friendly fire'

US using Depleted Uranium munitions

Live From Iraq, an Un-Embedded Journalist
Robert Fisk on Washington's 'Quagmire' in Iraq, Civilian Deaths and the Fallacy of Bush's 'War of Liberation'

Iraqi TV blasted off air
A series of explosions and the sound of low-flying aircraft was heard in Baghdad early on Wednesday, knocking out Iraqi Satellite TV's signal.

Iraq TV Raid May Break Geneva Convention
The head of the world's biggest journalists' organization said a U.S. bomb and missile attack on Iraqi television on Wednesday was an attempt at censorship and may have breached the Geneva Conventions.

US Troops Kill '300' Iraqi Soldiers




Printer friendly version

Send page by E-Mail