Day 1: Illegal Attack
Posted: Thursday, March 20, 2003

The Big Lie

Queen Sends Message to Our UK Troops

God Damn You
...and I mean that sincerely, George W. Bush.

A reckless path
We must make clear to the Germans that the wrong for which their fallen leaders are on trial is not that they lost the war, but that they started it. And we must not allow ourselves to be drawn into a trial of the causes of the war for our position is that no grievances or policies will justify resort to aggressive war. It is utterly renounced and condemned as an instrument of policy. -- U.S. Supreme Court Justice Robert Jackson, U.S. representative to the International Conference on Military Trials, Aug. 12, 1945.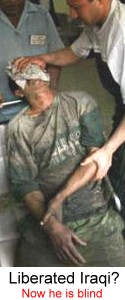 Attack illegal, experts say

Putin calls on US to stop

China: Stop the war 'immediately'

Malaysia says war on Iraq 'illegal'

Hundreds of thousands protest

WAR ON THE WORLD?
NOT IN OUR NAME

War draws condemnation

At U.N., no imminent threat seen

Former UN head calls Iraq war 'illegal'

Even George endorses violence to dump him

Overruling the Golden Rule:
a major setback for democracy and humanity
As veteran white house correspondent Helen Thomas recently exclaimed, "This is the worst president ever ... he is the worst president in all of American history." Oh, to have the distinction of having the wisdom to be the first to utter those words publicly!

Pope Paul upbraided UK, Italian PMs
Pope John Paul II lost his temper with British Prime Minister Tony Blair and Italian counterpart Silvio Berlusconi in recent discussions at the Vatican on a possible war in Iraq , a Catholic leaning newspaper reported on Wednesday.

Britain Given Short Notice of Iraq Attack

¤ ANTI-WAR PROTESTS SWEEP GLOBE FOLLOWING US ATTACK ON IRAQ
¤ U.S. Launches Massive al-Qaida Hunt
¤ Iraqi oil wells on fire: reports
¤ Rumsfeld: Iraqi Leadership Position Hit
¤ Exploring the Anti-War Right
¤ US Air Strikes in South Iraq, Ground Combat-Reports
¤ Iraq Launches Attack Against U.S. Troops
¤ War predictions fall flat with missile attack
¤ No targets off-limits, say allies
¤ 70,000 Turkish troops were massing on border with Iraq
¤ Bush sends Iraq war letter to Congress
¤ U.S. to give Israel $9B in loan guarantees, $1B in military aid
¤ Saddam: Iraq will be victorious over U.S. 'criminal acts'
¤ Pope Paul upbraided UK, Italian PMs
¤ U.S. Launches Iraq War, Misses Defiant Saddam




Printer friendly version

Send page by E-Mail