Is Blix working for the UN or the U.S.?
Posted: Monday, January 27, 2003

Ayinde

Blix sounds more and more like he is working for the U.S. with little bouts of differences between them to distract the observer. He is continually telling Iraq that they have to offer more if they want to avoid a war. Is he part of the U.S. threat to Iraq? I thought Bush and his goons were the warmongers and the UN inspectors were to inspect and report to the UN and not fan the flames of war.

The second photo below together with the caption came from the MSNBC website on the 27th January 2003. I observed it while searching for news and felt the photo was telling a bigger story.

However, when I returned to the Website moments later the photo and headline together with the caption were removed. I posted the photo with the updates as we carried it on the front page of this website.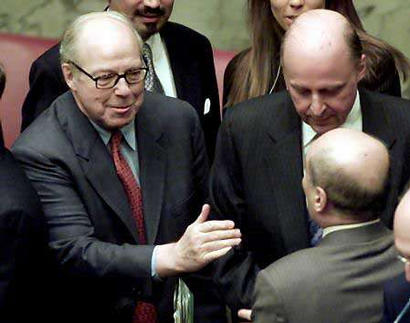 Copyright &copy 2003 Reuters Limited.
Chief United Nations weapons inspector Hans Blix (L) puts his hand on the arm of U.S. ambassador to the U.N. John Negroponte as he speaks with Kuwaiti ambassador Mohammad Abulhassan before delivering his report on Iraqi weapons to the United Nations Security Council January 27, 2003. The United States and Britain condemned Baghdad's attitude to U.N. arms inspectors, but the international community generally said the experts needed more time to complete their search for banned weapons. Photo by Jim Bourg/Reuters
- Jan 27 5:14 PM ET [source]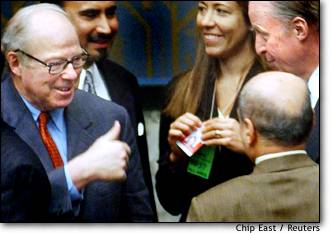 Blix questions Iraq's cooperation
Chief weapons inspector Hans Blix, left, gives a thumbs-up to U.S. Ambassador John Negroponte, top right, and a Kuwaiti diplomat, lower right, before delivering his report Monday.

Photo and caption exactly as it was carried
on MSNBC Website through the above link. 01/27/2003

NOTE: MSNBC removed the photo, caption and headline from the article and replaced it with a new photo and headline. Check the right of the page for the old headline that routes to the new photo and article. Notice the thumbs up Blix gave to the U.S. Ambassador and Kuwaiti diplomat BEFORE delivering his report.

UPDATE: The headline "Blix questions Iraq's cooperation" have now been removed from the right side of the MSNBC website.



Printer friendly version

Send page by E-Mail